Objective 1.2 Gathering Around...
The Goals of the IRC include three key Objectives and sub-objectives and their associated activities that advance the IRC vision and mission.
Objective 1.2: Colloquia or "Gathering Around…" events focus on current, cutting-edge concerns and understandings about IRM and working with them. These events foster and encourage conversations and networking throughout local and national tribal-based scholarly communities, particularly among other TCUs.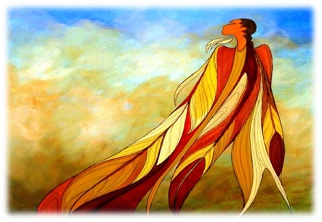 2021 Fall gathering: a collaborative event
On October 21 – 23 a virtual on-line space was recorded to engage students, scholars & professionals about Indigenous Knowledge Systems & Research Methodologies across academic disciplines and topics.
Welcome & Event Open
Recorded Sessions
iAIRA Membership Meeting
Topic Intro
Tribal IRB
Recorded Sessions
Panel
Workshops
Fire Place Reflection
Additional Resources & Links
Indigenous Data Sovereignty
Recorded Sessions
Panel 1: IDS Essentials & IRM
Panel 2: Governance, Policies and Practice
Panel 3: Ethics and Sharing
Knowledges & Data
Fire Place Reflection
Additional Resources & Links
IRM &
the Science of Being Off-Earth
Recorded Sessions
Panel: IRM & Language of Space Science
A Chat: Being Indigenous Off-Earth
Sharing Circle: IRM & Space
Science Projects
Pre-Recorded Talks
Fire Place Reflection
Event Close & Celebration
Additional Resources & Links
"What Do Indigenous Knowledges Do for Indigenous Peoples?"
2017  Chapter 4. Keepers of the Green World: Traditional Ecological Knowledge and Sustainability, edited by Melissa K. Nelson and Dan Shilling.
In 2017 Dr. Kyle P. Whyte (Citizen Potawatomi Nation) posed this intriguing, timely and timeless question. His work to center inquiry around this question engages consideration of Indigenous Knowledges within diverse contexts. Whyte states,
I have found that scientists often appreciate what I call here the supplemental-value of Indigenous knowledges—the value of Indigenous knowledges as inputs for adding (i.e., supplementing) data that scientific methods do not normally track…it is also the case that Indigenous knowledges have governance-value. That is, they serve as irreplaceable sources of guidance for Indigenous resurgence and nation-building…[and] for some Indigenous peoples in knowledge exchange situations, we need to be assured that the flourishing of our knowledges is respected and protected.
In partnership with the intercontinental American Indigenous Research Association (iAIRA) the 2021 Fall Gathering is provided as an online virtual event. Each Day provides an opportunity to share and come into conversation about Indigenous Research Methodologies (IRM) and their application within Indigenous Research by Indigenous researchers. This event is sponsored in part by the NSF's TCUP program and INBRE Montana.
The 2021 Fall Gathering centers critical ethical considerations in research design, process, and data gathering and management accomplished with and by Indigenous/tribal communities. Specifically, this Gathering seeks to consider how we embody broader ethical aspirations toward nation building while navigating academia and research including: engagement with Indigenous/tribal and academic institutional review boards' policies and procedures, data sovereignty and existing issues of data control in and with Indigenous peoples and communities, and exploring the science of being off-earth in ways that can reflect cultural sensitives and tribal community needs in humanizing and mutually beneficial ways, as we consider current relations to non-tribal social, political, and economic realities.
Whyte states:
"This essay is written to address conversations about the best ways to engage in knowledge exchange on important sustainability issues between Indigenous knowledges and fields of climate, environmental and sustainability sciences. In terms of sustainability, a crucial facet of the self-determination of peoples such as Indigenous nations and communities is the responsibility and the right to make plans for the future using planning processes that are inclusive, well-informed, culturally-relevant, and respectful of human interdependence with nonhumans and the environment. Indigenous knowledges often play a crucial role in Indigenous planning processes. In my work, I have found that scientists often appreciate what I will call here the supplemental-value of Indigenous knowledges — the value of Indigenous knowledges as inputs for adding (i.e. supplementing) data that scientific methods do not normally track. In the domain of supplemental-value, Indigenous people's planning processes will improve, in turn, by having access to the supplemented and hence improved science. But it is also the case that Indigenous knowledges have governance-value. That is, they serve as irreplaceable sources of guidance for Indigenous resurgence and nation-building. Scientists should appreciate governance-value because it suggests that for some Indigenous peoples in knowledge exchange situations, we need to be assured that the flourishing of our knowledges is respected and protected. I hope to make the case for why it is important for scientists who work with Indigenous peoples to understand governance value in the hopes that this understanding will improve their approaches to knowledge exchange with Indigenous peoples."
Ren Freeman
Eastern Shoshone
IRC Director
iAIRA President/Chair
Ren, raised on her tribal homelands at the Wind River reservation in Wyoming, has three children and two grandsons, and a Beagle furson named Foley. She is a 4-fielded Anthropologist with a thirty-plus year career prior to returning to graduate school to finish her doctorate, at the University of Montana (UM). Ren holds a BA in Cross- and Inter-Cultural Communication and Business Administration from the University of Denver, and an MA in Anthropology from the University of Oklahoma. She recently earned a Certificate in Natural Resource & Environmental Policy, with an emphasis in Conflict Management from UM. She's a professor for both UM and SKC – teaching research design with use of Indigenous Methodologies, and various other Anthropology and Native American Studies courses from an Indigenous perspective. Ren is a Sloan Indigenous Graduate scholar receiving support for her dissertation research that practices IRM through seeking to Understand Impacts to Indigenous Knowledge Systems (IKS) from use of remote sensing technologies and GIS within landscape archaeological surveys, and their influences on Indigenous Practitioner use of ITEK and also tribal leadership decision making regarding cultural heritage and natural resource management.
Louise Mitchell
Pend d'Oreille
IRC Assistant
Louise is a recent graduate of Salish Kootenai College, having earned a BA in Tribal Administration and Governance she saw an opportunity to work with Tribes and Education while continuing to learn herself. With her position as the IRC Assistant she is new to the work of Indigenous Research Methodologies and researches based in STEM. The idea of an IRC center and how Salish Kootenai College can incorporate IRM through all learning bridges, well, it was too cool to not try. She was born and raised on her Confederated and Salish and Kootenai Tribes reservation and is currently raising her daughter, who is her "heart's joy,"  they have two puppies and two nearly wild cats.  Louise is an enrolled member of the Confederated Salish and Kootenai Tribes for her Pend d'Oreille and Pikuni. The endeavor of IRM and Indigenous Knowledges are important and need to be perpetuated, this work is important to Louise.
Shanny Spang Gion is Northern Cheyenne, Crow, and also of German heritage. She was raised in Lame Deer, MT and is an enrolled member of the Northern Cheyenne Nation.  Her parents are Alan and Joleen Spang and she is the second oldest of seven children. Shanny and her husband, Jake Gion, have been married for 12 years and they have three children, Carter, Jessa, and Adrian.
Shanny's education background includes a Bachelor of Science in Environmental Science from MSU-Bozeman (2005).  In 2019 she graduated with highest honors from Montana Technological University a Master of Science Interdisciplinary degree in Hydrogeology and Technical Communication.  Her graduate work was focused in demonstrating that Traditional Ecological Knowledge and Western Science can co-exist synergistically to inform local-scale water management as well as to learn and practice effective communication strategies that align with culture and worldview using both Indigenous research methods and traditional Western methodologies.
Currently, Shanny is a Visiting Tribal Scholar with the University of Idaho's College of Natural Resources.  Her work as a Visiting Tribal Scholar (VTS) involves relationship building with tribal nations, exploring curriculum development in Indigenous Research Methods and Indigenous Knowledge Systems, developing research collaborations with tribes, faculty development, and mentoring students.  She previously served as executive director of a non-profit organization, Southeast Montana Area Revitalization Team (SMART), in Baker, MT, where her work is focused in local economic and community development.  She was also part of a National Science Foundation project building effective mentor-mentee relationships between professors and Indigenous graduate students in STEM.  Previously, Shanny worked for11 years for the Northern Cheyenne Tribe government in natural resources and water resources management, with work experience extending from water research and planning to tribal water law implementation.
Her interests include water governance, decolonizing philosophies, Indigenous Research Methods, Indigenous Research Paradigms, climate science, and rebuilding relationships with water.  Outside of professional work, she enjoys helping her kids develop their critical thinking skills and athletic ability, reading, learning about other Indigenous nations, playing volleyball, watching professional sports, and spending time with her relatives, both human and more-than-human.
Dr. Hall is a Blackfeet educator, historian, and educational researcher, raised on the Blackfeet Indian Reservation, near Browning, MT, on his family's ranch. He is a graduate of Montana State University- Bozeman having received his BA in History, an MA in Education, and his PhD in Educational Leadership from MSU. Dr. Hall's outreach to tribal communities has been vastly expanded through his research and publications on culturally-based pedagogical approaches, that emphasizes leveraging cultural values to promote best practices in tribal, educational, and other community leadership contexts. He currently serves as the Tribal Outreach Specialist at the University of Montana and is an affiliate at UM's Alexander Blewett III School of Law, as a student support advocate for Native law students.
Dr. Tsosie is a post-doctoral scholar at Montana State University in Bozeman, MT. She received her Ph.D. in Interdisciplinary Studies with a subject emphasis in the fields of Chemistry, Geosciences and Environmental Science/Studies from the University of Montana. Her graduate research brought together Dine and western scientific perspectives to address water contamination in her home community of Tółikan, AZ and the surrounding communities. She has experience working within Indigenous communities, implementing and practicing Indigenous Research Methodologies. In her free time, she enjoys beading, sewing, practicing traditional Dine arts and baking.
iAIRA "code" of relationality and ethics
https://www.americanindigenousresearchassociation.org/mission/spider-conceptual-framework/
Sponsors: National Science Foundation TCUP
& INBRE Montana