I think that the thing I most want you to remember is that research is a ceremony. And so is life. Everything that we do shares in the ongoing creation of our universe.
Shawn Wilson
iAIRA Founding Scholar Elder
Event Open
iAIRA Membership Meeting
Day 1 Topic Intro
Tribal IRB
Recorded Sessions
Panel
Workshops
Fire Place Reflection
Additional Resources & Links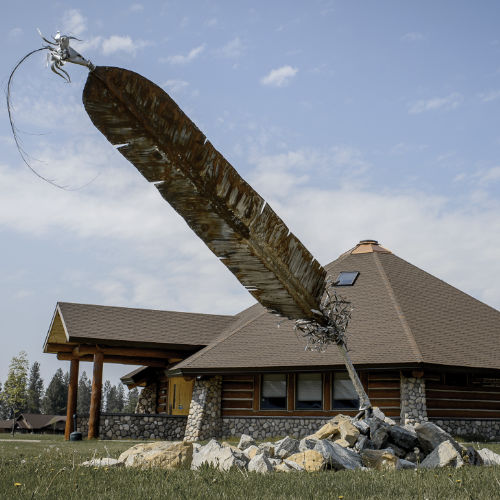 As the first session of the first day of the intercontinental American Indigenous Research Association (iAIRA) Virtual Colloquium we have invited an esteemed tribal IRB member, two presentations from scholars working to advance tribal sovereignty over research through their advocacy, and a re-convening where panelists, presenters, and attendees will de-brief and dialog emerging ideas/questions. Tribal IRB's have become a leading topic among federally recognized tribes in the United States, these sessions are designed to help iAIRA members and conference attendees to gain greater awareness for tribal IRB's impacts on research sovereignty and current issues facing tribes. This is also a professional development opportunity for those interested in supporting, serving, or gaining insights into the emerging role of tribal IRB's in furthering the use of Indigenous Research Methods (IRM), protecting tribal knowledges/peoples, and working toward data/research sovereignty.
Welcome to the 2021 Fall Gathering: A Collaborative Event
Join the IRC and iAIRA Planning Team as we Welcome you to the Event. You'll view a Greeting from iAIRA member and founding Board Member Dr. Shawn Wilson. Ren will provide an iAIRA organization report for its membership and then Officially Open the Event. iAIRA Board Member Shanny Spang Gion will provide the Event Theme and Topics be presented each of the 3 days of the Gathering. Each of the Board Members will provide their responses to 3 Key Questions: What are Indigenous Research Methodologies, Who are Indigenous Researchers, and What is Indigenous Research. This will be followed by Dr. Brad Hall introducing the Day 1 Topic, Tribal IRB, and will also provide the close of our session.
Roy BigCrane, Good Words for Gathering Beginning
Shaw Wilson, Welcome,  IRM and Research
Tribal IRB: Presentation and Panel Discussion
This presentation will offer the perspective of a Tribal IRB administrator regarding the Common Rule, OHRP guidance, NIH data-sharing policies, Tribal IRBs, and Data Sovereignty.
The aims of this presentation are: (1) to provide information about Federal and Tribal regulations, guidance, and policies; (2) to nurture respectful Tribally-Driven Participatory Research (TDPR), and (3) to encourage further study in this area.
Note: this session has a 1-time only check-in. You will be taking a break between workshops but are requested to remain logged in to the session. Leaving and attempting to re-enter the session may not be possible. Invited guests include:
Introductions and Overview of Workshop Theme: Toolkit and Advancement
Federal Regulations, Policy, Guidance and Tribal IRBs.
Bioethics of Indigenous Genomics: Increasing Health and Data Equity.
A facilitated group dialog about takeaways and emerging ideas based on the conversations and participant questions occurring within the workshops.
Related Articles:
https://www.legacy.com/us/obituaries/newsminer/name/gerald-mohatt-obituary?id=7874061
https://www.facebook.com/localcontexts
"The Facebook link is a model of STOPGAP labeling to keep track of Indigenous data across systems.....similar to Creative Commons licensing." ~ Joseph Yracheta
This panel consists of continuously dedicated tribal IRB officials from the Blackfeet, Chippewa-Cree, and Fond du Lac tribes. These tribal IRB officials will share their stories and thoughts about how in their roles intersect and widen the impact tribal IRB's in furthering the use of Indigenous Research Methods (IRM), building greater capacity for data sovereignty, and continuing to protect tribal knowledge in ways that benefit their respective communities.
BIO:  Dr. Running Wolf is an enrolled Blackfeet tribal member who is professionally committed to the improvement of behavioral health and social systems in Indian Country. She is a counseling psychologist with over thirty years' experience in American Indian education and training, research and evaluation and program development.  Dr. Running Wolf has provided evaluation, community mobilization and planning services in over fifty tribal communities. She was the lead developer and project manager for a SAMHSA contract entitled "Native Aspirations Suicide, Violence and Bullying Project".  As an educator she has taught in a variety of settings such as elementary – secondary education, at two tribal colleges and as an Assistant Professor at Washington State University.  Dr. Running Wolf has successfully implemented national quantitative and qualitative outcome based evaluations in numerous tribal communities, both urban and reservation.As a national consultant to Federal and State entities by serving on policy making committees to include culturally competent approaches to mental health services, research, design, and evaluation.  Additionally she also served on the Tribal Evaluation Steering Team under the Children's Bureau's Child Welfare Research and Evaluation Workgroups and co-authored a recent publication the "Roadmap to Collaborative Evaluation in Indian Country".  She has since piloted the model successfully with the 2nd largest Tribal TANF program in the country.  For the past ten years she has served on the Blackfeet Nation's Institutional Board and has previously served on the Washington State Institutional Review Board.  Dr. Running Wolf received an Associate of Arts from the Blackfeet Community College Browning MT, Bachelor of Science in both Elementary and Secondary Education from the University of Great Falls, MT, a Master of Education in School Counseling from Western Washington University, Bellingham WA and a Doctorate in Counseling Psychology from the University of Wisconsin, Madison.
BIO:  Tonya Kjerland has been the Research Specialist at Fond du Lac Band of Lake Superior Chippewa for the past two and a half years, serving as an IRB administrator and program evaluator. Prior to this, she served as Director of the Center for Community-Based Learning & Service at Gustavus Adolphus College. In the past, Ms. Kjerland provided emergency medical care, environmental technical writing, and indoor air quality services for the Bois Forte Band of Chippewa. Her roots are in Sault Ste. Marie, Michigan and rural Kansas, and her ancestors were Arapaho and Russian-German.  She holds a Bachelor of Arts from St. Olaf College in Biology and Asian Studies, as well as a Master of Science in Water Resources Science from the University of Minnesota.  Ms. Kjerland is currently a PhD student in Indigenous Health at the University of North Dakota with interests in behavioral health, traditional food, provision of culturally safe health care, and research ethics.  Description: This presentation will offer the perspective of a Tribal IRB administrator regarding the Common Rule, OHRP guidance, NIH data-sharing policies, Tribal IRBs, and Data Sovereignty.  As a case study, the policies and procedures of the Fond du Lac Band of Lake Superior Chippewa will be considered.  The aims of this presentation are: (1) to provide information about Federal and Tribal regulations, guidance, and policies; (2) to nurture respectful Tribally-Driven Participatory Research (TDPR), and (3) to encourage further study in this area.
BIO:  Wilma Tyner is an enrolled member of the Chippewa Cree Tribal member of the Rocky Boy Indian reservation.  She is also an Assiniboine Sioux on her mother's side from Ft. Belknap, Montana. Currently she is the Dean of Academics at Stone Child College.   She has been married for 44 years to Gil Tyner and together they have 5 children and 13 grandchildren. She holds her family near and dear to her heart. She was born in Ft. Belknap and raised in Rocky Boy, Montana.  For the past 11 years she has worked for Stone Child College.  She has served on various boards such as the local school board, judicial committee, and community boards, throughout her career. She has been employed at Stone Child and serves as the Institutional Review Board (IRB)Chair for Stone Child College. Wilma received a Bachelor of Arts degree in Psychology from Langston University, Langston, Oklahoma and a Master of Arts degree, Educational Psychology from the University of Utah.
BIO:  Krystal Tsosie (Diné/Navajo Nation), MPH, MA, PhD candidate is an Indigenous geneticist-bioethicist at Vanderbilt University, incoming faculty at Arizona State University. As an advocate for Indigenous genomic and data sovereignty, she co-founded the first US Indigenous-led biobank, a 501c3 nonprofit research institution called the Native BioData Consortium. Much of her current research centers on ethical engagement with Indigenous communities in precision health. She also incorporates biostatistics, genetic epidemiology, public health, and computational approaches to cancer health disparities, particularly in women's health. At the laboratory bench, she developed and patented a combined targeted ultrasound imaging and chemotherapeutic drug delivery device for treating early metastases in cancer. Krystal's research and educational endeavors have received international media attention in such outlets as The New York Times, PBS NOVA, Washington Post, NPR, The Atlantic, Forbes, Boston Globe, among others.
On-Topic Related Additional Information
Dr. Kyle P. Whyte -- What Do Indigenous Knowledges Do for Indigenous Peoples?
2017 Chapter 4. Keepers of the Green World: Traditional Ecological Knowledge and Sustainability, edited by Melissa K. Nelson and Dan Shilling.
https://kylewhyte.cal.msu.edu/wp-content/uploads/sites/12/2019/02/2018-Whyte-What-do-Indigenous-Knowledges-Do.pdf
Whyte states: "This essay is written to address conversations about the best ways to engage in knowledge exchange on important sustainability issues between Indigenous knowledges and fields of climate, environmental and sustainability sciences. In terms of sustainability, a crucial facet of the self-determination of peoples such as Indigenous nations and communities is the responsibility and the right to make plans for the future using planning processes that are inclusive, well-informed, culturally-relevant, and respectful of human interdependence with nonhumans and the environment. Indigenous knowledges often play a crucial role in Indigenous planning processes. In my work, I have found that scientists often appreciate what I will call here the supplemental-value of Indigenous knowledges — the value of Indigenous knowledges as inputs for adding (i.e. supplementing) data that scientific methods do not normally track. In the domain of supplemental-value, Indigenous people's planning processes will improve, in turn, by having access to the supplemented and hence improved science. But it is also the case that Indigenous knowledges have governance-value. That is, they serve as irreplaceable sources of guidance for Indigenous resurgence and nation-building. Scientists should appreciate governance-value because it suggests that for some Indigenous peoples in knowledge exchange situations, we need to be assured that the flourishing of our knowledges is respected and protected. I hope to make the case for why it is important for scientists who work with Indigenous peoples to understand governance value in the hopes that this understanding will improve their approaches to knowledge exchange with Indigenous peoples."