Gathering Around Day 2: Indigenous Data Sovereignty
Statistics are powerful persuaders…they do much more than summarize reality in numbers. They also interpret reality and influence the way we understand society…do not just describe reality—they create it.
Maggie Walter
Palawa Pairrebenne Indigenous Scholar Elder
"Indigenous Statistics: A Quantitative Research Methodology"
The multi-faceted nature of indigenous data sovereignty gives rise to a wide-ranging set of issues, from legal and ethical dimensions…to intellectual property rights and practical considerations about how data are used in the context of research, policy and practice.
Tahu Kukutai
Waikato, Ngati Maniapoto and te Aupouri tribes
Associate Professor, University of Waikato
New Zealand
Topic Open and Introductions
Recorded Sessions Panels
Fire Place Reflection
Additional Resources & Links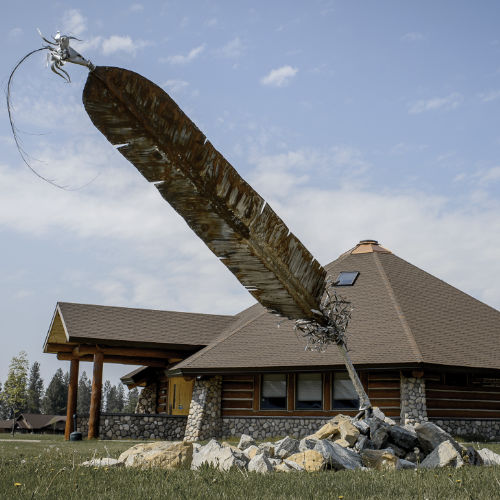 Join iAIRA Board members as they facilitate a Panel discussion around the topic of Indigenous Data Sovereignty Essentials and IRM – Expressions & Approaches Across Contexts. This topic considers how data is expressed in a multitude of ways. Through conversation panelists will address how data sovereignty is enacted and embodied in a variety of context, including academia, tribal government, and nonprofit environments. Panelists will also posit approaches for thinking and weaving data sovereignty principles with Indigenous Research Methodologies.
Tahu Kukutai, Welcome, Data Sovereignty
Related Links:
http://www.ncbi.nlm.nih.gov/pmc/articles/PMC5310710/#:~:text=In%202004%2C%20the%20Havasupai%20Tribe,in%20several%20other%20genetic%20studies.
https://www.gida-global.org/care
https://iopscience.iop.org/article/10.1088/1748-9326/aaf300/meta
Governance, Policies and Practice
Panelists enter conversations around current data governance, policies, and practices across Indigenous lands, academic disciplines/institutions, and management relationships, then offer analysis of existing laws and policies that impact governance approaches. They will also offer potential ways to forward practices that promote nation building that supports governance value.
Related links:
http://www.niehs.nih.gov/research/supported/centers/srp/index.cfm
https://journals.uio.no/JEA/article/view/6688
Ethics and Sharing of Knowledge & Data
This session's Panelists discuss ethical considerations of sharing knowledges, knowledges expressed as data, and how Indigenous values (e.g., respect, reciprocity, relationality, relevance, etc.) can guide Indigenous researchers particularly in academic and social settings. Panelists will also problematize the inclusions of Indigenous Knowledges in academia (research, projects, dissertations) and whom is asking for that type of inclusion.
Related Links:
https://nnigovernance.arizona.edu/indigenous-data-sovereignty-care-principles-and-biocultural-labels-initiative
http://www.facebook.com/localcontexts
https://passamaquoddypeople.com/passamaquoddy-traditional-knowledge-labels
Got to the gallery for examples
Panelists and facilitators reflect with attendees on the questions discussed throughout the day and share takeaways and emerging ideas.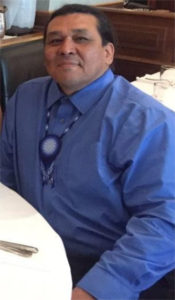 BIO:. Joseph M. Yracheta is an Amerindigenous Scientist (P'urhepecha y Raramuri from Mexico) at the Native BioData Consortium within the Cheyenne River Lakota Nation (Sioux) of South Dakota. Mr. Yracheta has been a scientist since 1990 where he started as a bench biotechnician and continued in many fields and science disciplines. In 2014 he graduated from the UW-Seattle with a master's of Pharmaceutics and Bioethics under Drs. Ken Thummel and Wylie Burke. He is currently finishing a DrPH in Environmental Health and Engineering from Johns- Hopkins under Drs. Ana Navas-Acien and Paul Locke. Mr. Yracheta is passionately working to end Amerindigenous Health Disparity by "wearing many research hats" of law, ethics, policy, genomics, omics, health outcomes, epidemiology, health care prevention/intervention and allostatic load from Racism and Euro- American Colonialism.  Mr Yracheta works for a new 501(C)(3) called the Native Bio Data Consortium. It is the first of its kind ever. It is a biorepository or "biobank" but it differs in many respects. It will not only house samples and data from current biomedical research projects but it will create a compendium of Native data past, present and future in a unique and innovative fashion.  Not only will it lend itself to breakthrough biomedical discoveries but it will also enhance tribal sovereignty in a way that has long been unfulfilled. It will allow tribes to be economically self-sustaining while building capacity through education, material and legal infrastructure and business economy. Big Data and Biomedical Information is happening at a breakneck pace. This developing technological era has tremendous benefits but can also have dangerous ramifications for all populations. Such technologies can bring an end to severe health care crises in Native communities but such "rescues" won't be realized unless Tribes take control of their data and leverage it for their own needs. ALL data and resources must be seen as unforeseen futures, where their value will constantly change. This value can and must be captured for sustainability and entrepreneurship for the people from whom it derives. Big picture, such ability to self-govern and capitalize on such technologies will eventually reduce societal costs, health care expense and increase new solutions for this and other populations.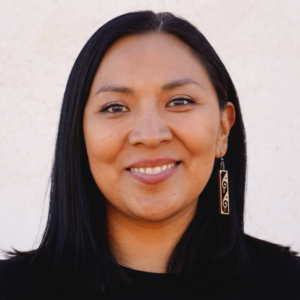 BIO: Dr. Carrie Nuva Joseph (Hopi) is a Postdoctoral Scholar in the School of Sustainable Engineering and the Built Environment at Arizona State University. She specializes in the chemical and biogeophysical relationships between natural and engineered landscapes impacted by hazardous waste and human disturbance. Her interdisciplinary efforts also include research on climate change impacts, human exposures to anthropogenic contaminants, hydrology, and water resource management in Indigenous communities.  Using a holistic lens, Dr. Joseph's work informs decision-making in science and policy, to advance social equity and data sovereignty efforts in marginalized populations. Carrie is a citizen of the Hopi Nation, where she was born, raised and currently resides.
BIO:  Jeffrey Ross

 is Anishinaabe from the Northwest Angle #33 First Nation in Ontario, Canada.  He is currently pursuing a PhD in the College of Natural Resources at the University of Idaho. His research focuses on the economic impacts of global change on forest ecosystems and seeks to understand how biodiversity and supporting ecosystem services can contribute to mitigation and adaptation efforts in a social, cultural, and economic context. 

Jeffrey was formerly the Program Manager in Forest Governance and Stewardship at the BC First Nations Forestry Council in North Vancouver, British Columbia, and the Director of the Territorial Planning Unit at Grand Council Treaty #3 in Kenora, Ontario. In these roles, he provided technical and expert advice to First Nations on a broad range of issues from ecosystem-based management to modernized land use planning to forest tenure modernization.  He was also instrumental in negotiating agreements, developing protocols, and influencing policy development around the use and protection of traditional knowledge and traditional land uses (TK/TLU) by federal and provincial governments, as well as industry and other stakeholders in Canada.  

Jeffrey is a graduate of the University of Montana (BSc) and Yale University (MFS).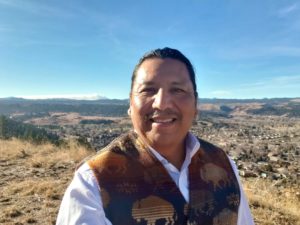 BIO:  James Rattling Leaf.  Currently, James is a Research Associate at the Cooperative Institute Research Environmental Sciences, University of Colorado-Boulder as well a Co-Principal Investigator, North Central Climate Adaptation Science Center. He specializes in developing programs that utilize the interface between Indigenous People's Traditional Knowledge and Western Science.  He has over 25 years' experience serving as a cross cultural/broker resource to Federal Government, Higher Education Institutions and Non-Profits to developing, maintaining positive on-going working relationships with federally and non-federally recognized Indian tribes, Tribal College and Universities and Tribal Communities. He sees a greater vision of human knowledge that incorporates the many insights of human cultures and provides a context for our better understanding of the planet and the world.  He is a founding member of the Group on Earth Observations (GEO) Indigenous Alliance that was established at GEO Week 2019 in Canberra, Australia to foster a continued, effective, respectful, and reciprocal relationship with GEO and representatives of indigenous communities from around the world.  He was born on the Pine Ridge Indian Reservation USA and is an enrolled member of the Rosebud Sioux Tribe. His higher education comes from Sinte Gleska University.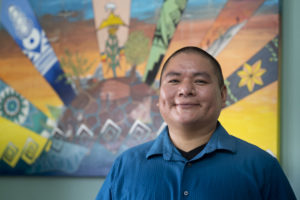 BIO:  Darryl Reano is a geologist and geoscience educator from Acoma Pueblo, New Mexico. He recently began a new position as an assistant professor in the School of Earth and Space Exploration at Arizona State University. Darryl's research is focused on creating inclusive educational environments using Indigenous research frameworks. Darryl will be presenting at the American Geophysical Union Fall Meeting in session: "SY43A – Native Science to Action: How Indigenous Worldviews Inform, Diversify, and Build Capacity in Environmental Science and Policy" and will also be a panelist for the Town Hall: "Surviving Global Change: GeoHealth, Marginalised Communities and Environmental Justice in the Anthropocene" during the AGU meeting.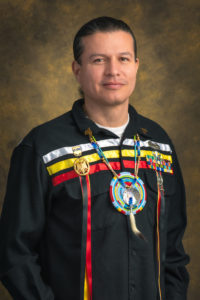 BIO: Sammy Matsaw
Sammy is a father, husband, grandfather, and extended family member. Sammy along with Jessica oversees day-to-day operations of River Newe; planning, coordination, website development and social media communications, and grant writing. He brings ten years of military experience and leadership. An additional ten years of science and management involved in Indigenous sovereignty and treaties with the Shoshone-Bannock Tribes' Fish and Wildlife department. He is also a pipe-carrier and Sundancer with both his mother and father's tribes. Email: sammymatsaw@isu.edu
Mailing address: 112 S. Siler Rd., Pocatello, Idaho 83202
Title: Research Ecologist
Degree / Credentials: PhD
Affiliation: American Indian Science and Engineering Society (AISES) member, Idaho Chapter of American Fisheries (AFS) Anadromous Fishes Co-chair
On-topic Related Additional Information
United States Indigenous Data Sovereignty Network
https://usindigenousdata.org/
Free Amazon Kindle book: Indigenous Data Sovereignty and Policy 2020 Maggie Walter Also, Open Access at
https://www.taylorfrancis.com/books/e/9780429273957
Walter (Palawa), is a Distinguished Professor of Sociology at the University of Tasmania, Australia and author of Indigenous Statistics (2013, co-author Chris Anderson), as well as a founding member of the Maiam nayri Wingara Indigenous Data Sovereignty Collective and the Global Indigenous Data Alliance. Indigenous Data Sovereignty and policy is co-authored with Tahu Kukutai, Stephanie Russo Carroll, and Desi Rodriguez-Lonebear.
International Working Group on Indigenous Affairs
https://www.iwgia.org/en/ip-i-iw/4268-iw-2021-indigenous-data-sovereignty.html
University of Arizona Native Nations Institute
https://nni.arizona.edu
The First Nations principles of ownership[, control, access and possession
https://fnigc.ca/ocap-training/
Collaboratory for Indigenous Data Governance
https://indigenousdatalab.org/
Native BioData Consortium
https://nativebio.org/
Walter, Maggie and Chris Anderson. 2013. Indigenous Statistics: A Quantitative Research Methodology. Walnut Creek, CA: Left Coast Press
Kukutai, Tahu and John Taylor, editors. 2016. Indigenous Data Sovereignty: Toward an Agenda. Acton, ACT, Australia: The ANU Press (Australian National University).
Text Book (non-free Kindle)
Indigenous Data Sovereignty and Policy (Routledge Studies in Indigenous Peoples and Policy) 1st Edition
by Maggie Walter (Editor), Tahu Kukutai (Editor), Stephanie Russo Carroll (Editor), Desi Rodriguez-Lonebear (Editor)